How To Enable 5g In iPhone
Enabling 5G on an iPhone is a simple process, but it requires a few steps to ensure that your device is compatible with the network and has the right settings. Here's a guide on how to enable 5G on an iPhone:
Step 1:
Check for Compatibility Before enabling 5G on your iPhone, make sure your device is compatible with the network. iPhone 12, iPhone 12 mini, iPhone 12 Pro, and iPhone 12 Pro Max are the first iPhones to support 5G. If you have an older iPhone model, you won't be able to access 5G networks.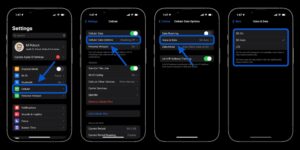 Step 2:
Check for 5G Coverage Once you've confirmed that your iPhone is compatible with 5G, you'll need to check if there is 5G coverage in your area. You can do this by contacting your mobile network operator or checking their website for coverage maps. 5G coverage is still limited in many areas, so you may need to wait until the network is available in your region. Google
Step 3:
Enable 5G in Settings To enable 5G on your iPhone, go to Settings > Cellular > Cellular Data Options. Under the Voice & Data section, select 5G On to enable 5G. If you don't see this option, your mobile network operator may not support 5G or may not have activated it for your account yet.
Step 4:
Configure 5G Settings After enabling 5G, you can configure the network settings to optimize your device's performance. Go to Settings > Cellular > Cellular Data Options > Voice & Data and select the preferred 5G mode. You can choose between three options: "5G Auto," which uses both 5G and LTE depending on the signal strength, "5G On," which only uses 5G, and "LTE," which uses only LTE.
Step 5:
Restart Your iPhone To ensure that your iPhone recognizes the changes made to the network settings, restart your device. Hold down the side button and either volume button until the slider appears, then drag the slider to turn off your iPhone. After a few seconds, press and hold the side button until the Apple logo appears.
Step 6:
Test Your 5G Connection Once your iPhone has restarted, test your 5G connection by opening a web browser or streaming a video. If you have a 5G signal, you should see faster download and upload speeds than on LTE.
Step 7:
Update Your iPhone Software If you're having trouble enabling 5G on your iPhone, make sure that your device is running the latest software. Go to Settings > General > Software Update and download and install any available updates.
Step 8:
Contact Your Mobile Network Operator If you're still having trouble enabling 5G on your iPhone, contact your mobile network operator for assistance. They can provide you with troubleshooting steps and ensure that your account is properly set up for 5G.
In summary, enabling 5G on an iPhone involves checking for compatibility and coverage, enabling 5G in Settings, configuring 5G settings, restarting your iPhone, testing your 5G connection, updating your iPhone software, and contacting your mobile network operator if necessary. With these steps, you can enjoy the benefits of faster internet speeds and improved network performance on your iPhone.